With more than 1200 retail stores across all fifty states, Ulta Beauty is one of the biggest beauty names in the United States.
The store has more than 600 famous and emerging brands and more than 25000 products, including makeup, skin care, perfume, hair care, self-care items, etc.
So with all this in mind, it's safe to say that you won't have a problem finding products for any skin problem you may have.
However, if you don't know where to start, in this article, I will list the 10 best Ulta products for acne-prone skin.
Before we get started, I just want to make two short disclaimers.
First, I don't recommend using too many acne products.
As I always like to mention, 4-5 products are more than enough for a complete skincare routine to tackle breakouts and maintain healthy skin..
And second, I am not affiliated with Ulta Beauty, so I will not earn any money from your purchase. These recommendations are based on my experience trying different products that work for me and my clients.
With all that said, let's get started right away:
NB: If you are someone with oily/acne prone skin, you need my new book"Ingredient handbook for acne-prone skin". Download here.
CeraVe – Acne Foaming Cleanser – $15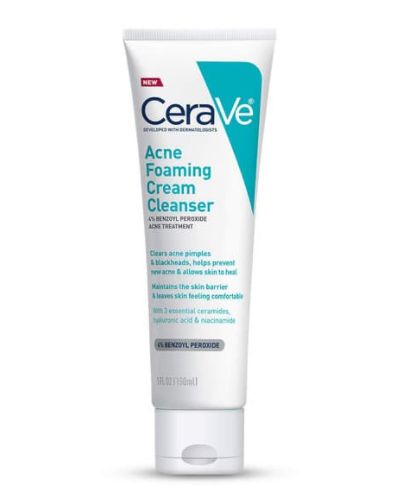 Acne Foaming Cream Cleanser is a cleanser that contains benzoyl peroxide.
Benzoyl peroxide is a primary antibacterial agent found in many products aimed at neutralizing acne-causing bacteria and preventing it from spreading and activating the immune system that causes inflammation.
The formula also features hyaluronic acid to help retain skin's moisture, as well as barrier-strengthening niacinamide to give you soothing benefits while helping skin heal.
Foaming cleanser is especially good for acne-prone skin and more severely sensitive skin because it can be used as a short-contact treatment.
However, because the benzoyl peroxide strength in this product is 4%, it is quite effective, but it may be too strong for daily use.
Therefore, try to incorporate it into your evening routine 2-3 times a week and keep it on your skin for no more than 60 seconds.
Always make sure to use a hydrating moisturizer, as it can potentially dry out your skin in the first place.
RELATED: The best CeraVe products for acne.
La Roche Posay – Medicated Gel Cleanser – $16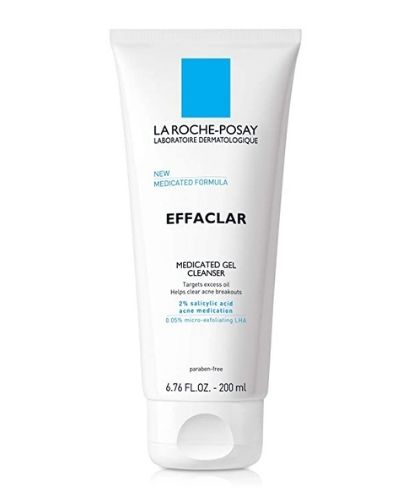 I generally recommend using exfoliating products for best results when treating acne; However, if you're running low on budget and don't know where to start, you're better off doing something than nothing, so an exfoliating face wash can be a good choice. in that situation.
La Roche Posay Medicated Gel Cleanser is an exfoliating cleanser that contains 2% salicylic acid to penetrate pores and clear clogged oil and residue, as well as lipo-hydroxy acid, which is a derivative and a gentler alternative to salicylic acid.
So, Medicated Gel Cleanser gives you double exfoliation without the irritation often associated with heavy use of acids.
However, you should still avoid overdoing it as it can dry out the skin and potentially cause irritation by disrupting the moisture barrier.
Tula – Keep It Clear Acne Foam Cleanser – $32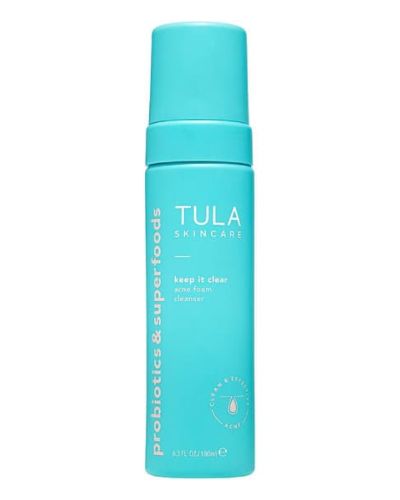 Tula is a premium brand found at Ulta that specializes in creating products that focus on acne-prone skin.
Keep It Clear Acne Foam Cleanser is part of the brand's acne product line that includes several other products.
However, while I generally don't recommend exfoliating cleansers and I tend to recommend exfoliating products to my clients, this one is especially good for those who aren't. Faces with severe acne and prone to friction breakouts. and sweating, such as from wearing a mask or hat.
The cleanser contains several beneficial ingredients besides 2% salicylic acid, including skin-lightening and soothing licorice, anti-inflammatory azelaic acid, probiotic extract, and soothing ginger.
CeraVe – Resurfacing Retinol Serum – $16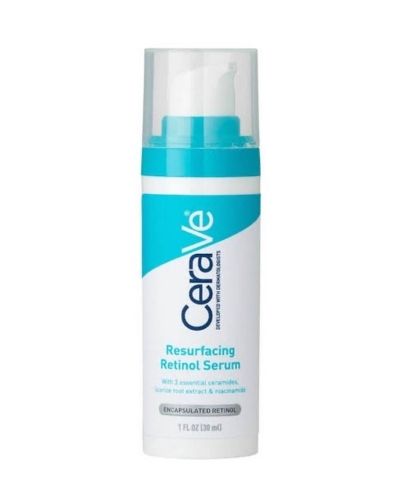 CeraVe's Resurfacing Retinol Serum is a pretty decent product for its price point.
This product can help calm active acne as well as remove post-acne scars, but because it contains some ingredients like niacinamide and propanediol, it can also work in balancing oil production, Soothes and moisturizes the skin while strengthening the skin barrier. .
On the other hand, it contains a problematic and potentially clogging ingredient at the bottom of the list called Isopropyl Myristate, a heavy-duty emollient commonly found in cream tretinoin.
This ingredient also acts as a penetration enhancer and although it may cause breakouts for some skin types, the concentration in this particular product is very small, so the potential for an effect is minimal. sub is also very small.
That's why I recommend trying Resurfacing Retinol Serum if your skin is dry, but try to avoid it if your skin is oily.
Best for all skin types, including sensitive and acne-prone skin.
Regular – 10% Azelaic Acid Suspension – $8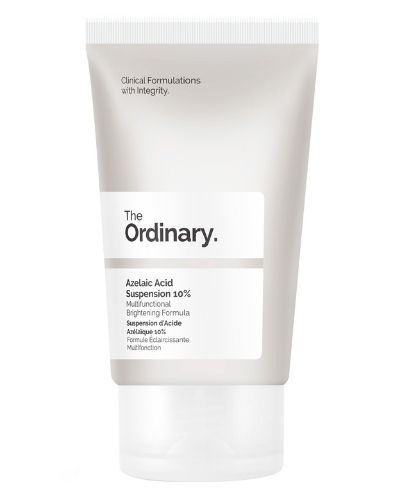 The Ordinary's Azelaic Acid Suspension is a great product for oily, acne-prone and rosacea-prone skin, as well as for those who are dealing with post-inflammatory redness due to previous breakouts. fish or contact dermatitis.
However, since it is a suspension, this product is filled with silicon. Silicones aren't necessarily bad in skin care and are an affordable ingredient that's easy to prepare and helps slow transepidermal water loss.
But the problem with these types of products is that they will pellet and shine on the surface of the skin and often don't stick well to other cosmetic products like sunscreen and makeup.
So if you're using Azelaic Acid Suspension 10% as the last step of your evening routine, chances are you'll love it, but if you want to use azelaic acid in the morning, it's best to pick something up. more elegant. such as Paula's Choice 10% Azelaic Acid Booster ($36).
I actually have a comparative review between the two azelaic acid products, so check it out if you're interested.
Best for all skin types, including sensitive, rosacea-prone skin.
RELATED: The best product for normal acne prone skin.
Urban Skin Rx – Acne Serum + Spot Treatment – $19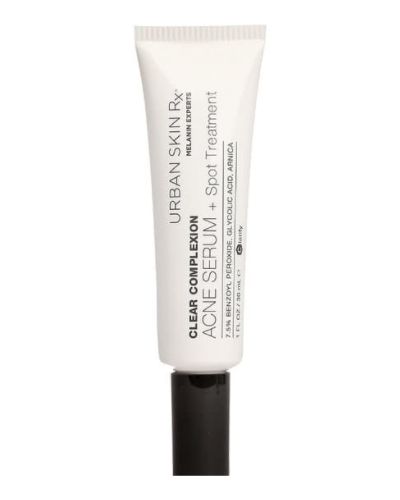 Urban Skin Rx Clear Complexion Acne Serum + Spot Treatment is a lightweight serum containing a combination of active ingredients to target breakouts and blemishes.
It is formulated with 5% benzoyl peroxide to oxidize pores and eliminate acne-causing bacteria along with 5% glycolic acid, an AHA that will help remove dead skin cells that can clog pores. and contribute to acne.
Now, this product is quite strong, and it can dry out the skin if not used properly; so you need to start by taking it every other day to slowly build up stamina.
As your skin begins to get used to the treatment, you can then increase it to once a day, and for very acne-prone skin, you can use it up to twice a day.
Finally, if you feel your skin is becoming dry, simply reduce use and compensate with a good moisturizer.
Alternatively, you can also use it as a spot treatment.
RELATED: How to use Benzoyl Peroxide and Salicylic Acid to fight severe acne?
Kate Somerville – D-Scar Scar Serum – $52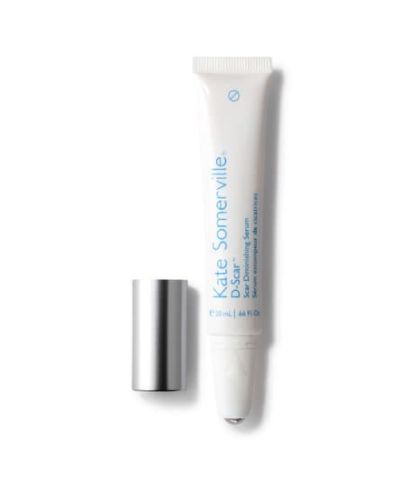 Kate Somerville's D-Scar Scar Diminishing Serum is another skin-lightening product that can be used to smooth and improve the appearance of post-inflammatory scars.
The treatment contains DS-7, a micro-encapsulated peptide that promotes normalized skin renewal along with botanical extracts to help calm the skin.
The D-Scar Scar Diminishing Serum is easy to use as it has a rolling pin and can be used as many times a day as needed.
Best for all skin types, hyperpigmentation problems.
Kate Somerville – EradiKate SA Acne Treatment – $60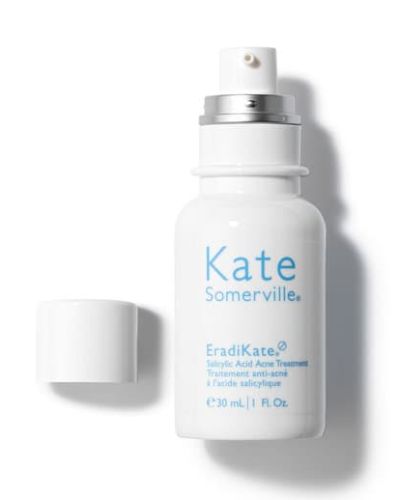 EradiKate Salicylic Acid Acne Treatment is a lightweight emulsion designed to calm active acne with two percent salicylic acid.
It also contains retinol, which helps to smooth skin texture and improve skin tone and pigmentation irregularities.
In one of my previous articles, I mentioned that I do not recommend salicylic acid and retinol mixed together by the same procedure; however, this is a different case as both ingredients are present in small amounts in the same formulation.
You should still watch for irritation and limit use if it occurs, but it's safe to use products that contain ingredients you wouldn't mix if they were in two separate products.
Besides, the moisturizing formula also contains sodium PCA and sodium hyaluronate, which help to hydrate the skin, keeping it plump and hydrated.
Neutrogena – Fast Acne Clearing Gel – $12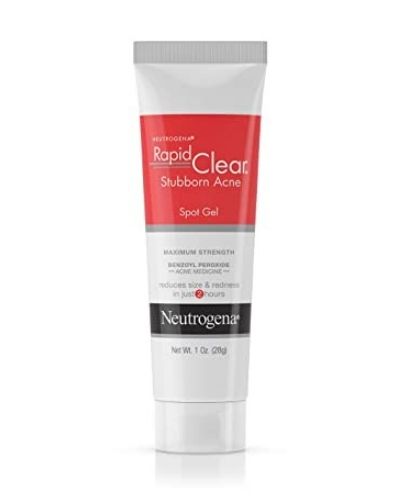 Neutrogena's Rapid Clear Stubborn Acne Spot Gel has to be my personal favorite benzoyl peroxide acne product for a few reasons.
First, the active ingredient is pretty strong at 10%, and it worked so quickly that I applied this to a large cyst on my jawline before going to bed, and there was literally nothing left. next morning.
My skin loves this product for some reason, and I've tried other 10% benzoyl peroxide treatments before, but none of them have worked as well as this one. .
Second, it's pretty cheap and lasts a long time.
And third, it's easily available in every country on the planet.
Differin Gel – $29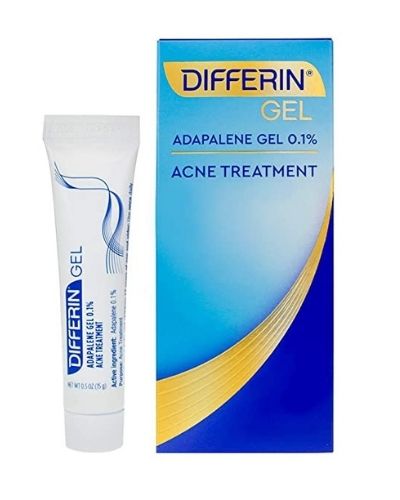 Differin Gel is an acne treatment containing Adapalene, a potent over-the-counter retinoid that is particularly effective in combating moderate to severe acne and improving hyperpigmentation.
This product, while it may work for more severe cystic acne, comes with a number of side effects, including skin flaking, as well as dryness and irritation, especially in the affected areas. area around the mouth.
However, the most undesirable side effect is exfoliation, which means you may have more breakouts than usual at first before your skin gets better.
Therefore, to avoid these side effects as much as possible, you need to introduce Differin slowly into your routine, follow up with a non-clogging sunscreen and moisturizer, and be extra patient until your skin does. used to it.
Best for severe, cystic acne.
My name is Simone and I am a certified skin specialist. I created this site to teach my readers how to take great care of their skin, and I also want to occasionally share my honest opinion on the skin care products I've tried. You can learn more about me here.
I have coached hundreds of clients just like you to help them manage their oily and acne-prone skin.
I had to go through the battle with acne. I know what it's like when your skin seems to be conspiring against you
The good news is that now I can show you how to manage it!
My new book will help you understand your skin better so you can make an informed decision about which product is best for your specific needs.